We have gathered here the cleaning instructions for Treston industrial furniture to give you guidelines for cleaning and disinfecting our products in an appropriate manner. Here, you will find advice on the care and stain removal for our most commonly used materials, as well as information on which cleaning and care products/tools to use and which to avoid.
General cleaning instructions
Treston's industrial furniture is designed to withstand heavy use and strenuous working conditions. Regular cleaning and care will help you further extend the lifetime of your industrial furniture. In general, the old wisdom still applies that diligent maintenance cleaning with neutral substances is better than shock treatment with strong surface-wearing substances.
Treston products are easy to clean. We have identified some parts in our industrial workstations that are most often touched and used in most workplaces and are therefore the most important points to clean.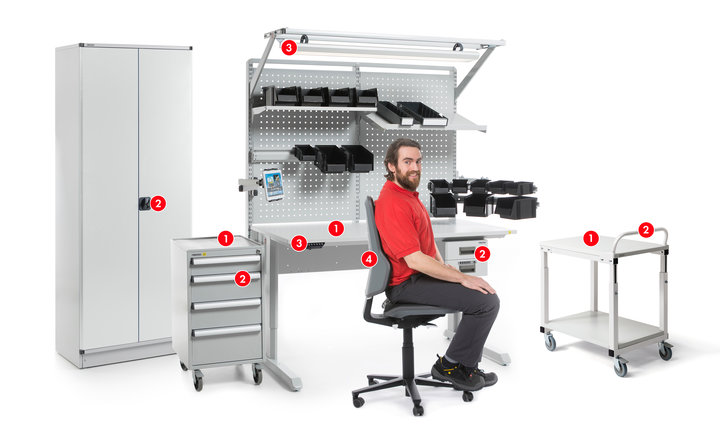 Workbench, cart and drawer unit tops
Handles
Push buttons (e.g. lights, electric height adjustments)
Back side of chair back rest (the non-upholstered side of back rest)
Hand cranks and armrests
When cleaning your Treston workstation, remember these 10 points:
All of the necessary equipment must be in place before starting the work.
Leave sufficient time for the task.
Ensure proper lighting.
Use protective gloves when cleaning to protect your hands from the substances used and to prevent the spread of infections.
Use general detergent for normal maintenance cleaning.
Follow the dosage instructions on the packaging of detergents and disinfectants. Too much of the substance will not improve the cleaning result and may possibly damage the surface and create irremovable stains on the surface.
Use only soft cloth to wipe the surfaces, e.g. microfiber wipes. Abrasive cleaning materials must not be used as they might possibly damage the surface and accumulate dirt and microbes in surface scratches.
Cleaning directions: a) From top to bottom, b) From clean towards dirtier areas.
Always wipe the surface with a dry or only slightly moist cloth and leave to dry. Wet wiping leaves dirt and stains on the surface.
Remove tenacious dirt and stains with an appropriate special detergent or disinfectant. Wipe and leave on for the time specified in the instructions on the label. Dry if necessary.
NOTE! Quite often, casters in carts, drawer units and benches are overlooked when it comes to cleansing. In order to ensure proper functioning casters, a regular maintenance cleaning is advised.
Detergents and disinfectants
Most commonly used materials in Treston industrial furniture are high and low pressure laminates, semi-conductive laminates, ABS-plastics, steel, vinyl and wood in worktops, powder coated steel and natural anodized aluminum in frames and accessories, artificial leather and polyurethane in chairs, and plastic and rubber parts. These materials have been tested using common detergents and disinfectants, and have been found to comply with these.
The large number of brands makes it impossible to give a complete list of usable products. However, our products are compatible with commonly used substances containing the following ingredients:
alcohol (typically denatured ethanol)
hydrogen peroxide (peroxygen)
acetic acid
chlorine
non-ionic surfactants (surface-active substances)
For more information on detergents and disinfectants, please contact the respective detergent manufacturer or dealer.

What to take into account when cleaning ESD protected furniture?
If you are cleaning ESD protected furniture there are certain things to keep in mind.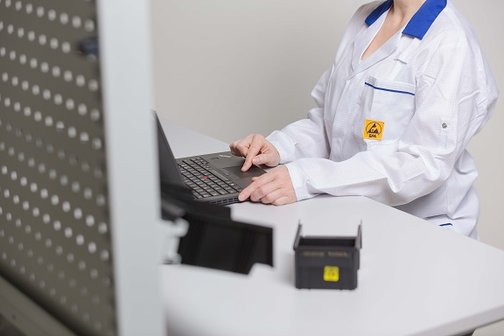 The ESD protective feature in our industrial furniture is in the materials used. If these materials are cleaned with wrong type of detergents or tools, you risk damaging the ESD protective feature. Therefore it is up most importance to follow these guidelines, when cleaning your Treston ESD furniture.
First and foremost, use only ESD specified cleaning detergents. Do not clean with detergents containing wax or with detergents that leave a coating on the surface. Wax and coatings will create an insulated layer on the surfaces.
Second, avoid contact with sharp objects (e.g. brushes or abrasive cleaning tools) that might cause damage to the surfaces and therefore hinder the ESD protective features. Use only soft cloth to wipe the surfaces, e.g. microfiber wipes.
Third, do not use any strong solvents.
Fourth, remember to clean caster surfaces. Dirt on casters will change resistance values significantly.
And fifth, keep in mind that dirt is the most common cause of change in surface resistance. Therefore, it is very important to clean your Treston ESD furniture regularly with soft clothes or wipes and with ESD specific detergents.
Please wait, loading product information...