ESD Workbenches Protect Electronics
Electrostatic discharge (ESD) costs electronics manufacturers billions every year in damage to products and the associated costs of repairing faulty devices.
ESD is an invisible threat which costs electronics manufacturers billions every year," said Treston's sales manager Tapani Poytaniemi, "But if they properly utilize ESD industrial furniture within an EPA and train workers on how to reduce the risk of ESD, they can significantly improve the reliability of their products and the service they provide to their customers.
EPA stands for ESD protected area, and is a zone that manufacturers need to create that covers the physical area in which devices are assembled. Within the EPA it's crucial that ESD workbenches, carts and other ESD furniture is used that will safely dissipate static into the ground.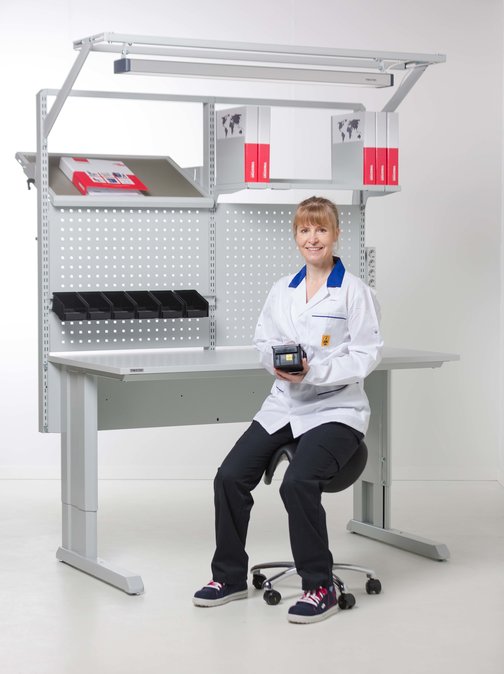 Treston ESD Workbenches for Greater Efficiency
Treston has been manufacturing ESD protective industrial furniture since the 1980s, and is now a global distributor of ESD products. Its product range includes ESD workbenches built with epoxy powder coated steel frames and durable 26 mm thick ESD-laminate particle board worktops. These materials are specifically chosen for their ability to safely dissipate static and minimize the risk of ESD occurring.
Treston benches and accessories come in a standard ESD powder-coated paint. There is never an extra charge or lead time for this paint! Our furniture with ESD protection meets the requirements of standard IEC 61340-5-1.
Treston's ESD workbenches are also height adjustable and can be customized with a range of modular accessories, including component bins, tool racks and task lights. This enables work areas to be ergonomically optimized so that tasks can be performed within the minimum strain and the maximum efficiency. Earthing kits, ESD wrist straps, and ESD mats are also available.
Treston's workbenches can be combined with ESD storage cabinets and other workbenches to create ergonomic workflow patterns, such as cellular or batch-and-queue. So as well as reducing the risk of ESD, Treston's product range can assist manufacturers improve the productivity of workers and increase profits as a result.