Ergonomics improves productivity and well-being at work
Have you paid attention to the methods of transferring objects, the placement and accessibility of tools, the opportunities to perform one's work either sitting down or standing up, and lighting at your workplace? All the above are part of ergonomic workstation design, and companies that have paid attention to these have been able to significantly improve their productivity.
However, good ergonomics means more than the ability to adjust a workstation's furniture. Improving ergonomics requires knowing the work process from start to finish, but most importantly, identifying the individual needs of the job and the employee. Developing the working environment and working methods pays off, as it helps the company reduce the amount of sick leave and the number of accidents at work, improve the quality of work, and increase efficiency and production volumes. Employees who work in a pleasant environment are more energetic and productive.
According to a study carried out by the University of Warwick in 2014, employees whose job satisfaction is low are 10 percent less productive compared to the average employee, whereas employees with high job satisfaction are 12 percent more productive than the average employee.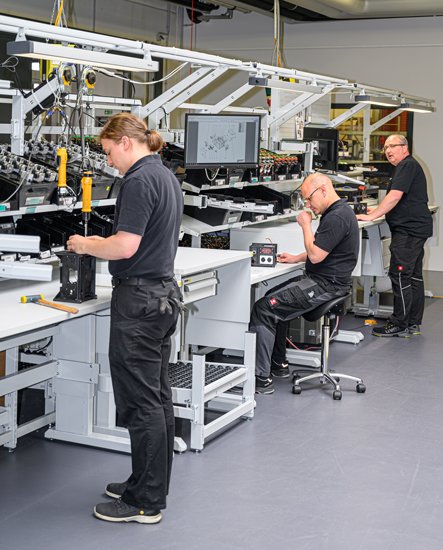 High performance every day
An ergonomic workstation enables employees to perform at their best, every day. Ergonomic working environments make performing one's work effortless and safe. All the components and tools are within easy reach, which eliminates the need to bend the body or stretch the arms, which in turn reduces tension, strain, and discomfort. This helps prevent musculoskeletal disorders, which affect up to three out of five working-aged people.
Occupational musculoskeletal disorders caused by poorly designed working methods and working postures not only cause physical strain to employees, but also burden companies and society as a whole through sick leave, incapacity for work, and decreased productivity.
Why should you invest in ergonomics?
In the long term, there are several issues related to efficiency, safety and productivity that are positively affected by proper ergonomics.
Let's start with the facts: musculoskeletal disorders (MSDs) affect most employees.
According to European Agency for Safety and Health at Work musculoskeletal disorders (MSDs) are the single largest occupational health hazard in Europe: up to three out of five employees report musculoskeletal symptoms. In addition, Confederation of Finnish Industries has reported that employees in the industrial sector have the most absences due to sickness, on average 16 working days per person/year.
Let's then have a look at the measures: Proper ergonomics can reduce MSD-related absences as much as 72%
A study made on estimating the effectiveness of ergonomics interventions revealed that musculoskeletal symptoms and disorders were reduced 57% and absences due to MSDs reduced 72% as a result of measures that improve ergonomics.
The results: productivity improved 46% resulting in significant annual savings
The above mentioned study on the effectiveness of ergonomics inventions concluded that productivity improved 46% through measures that improved ergonomics. All these are rather impressive figures. How do these percentages then turn into euros and cost savings? Let's calculate this out through one example (source for calculations: Varma Mutual Pension Insurance Company: Absence calculator):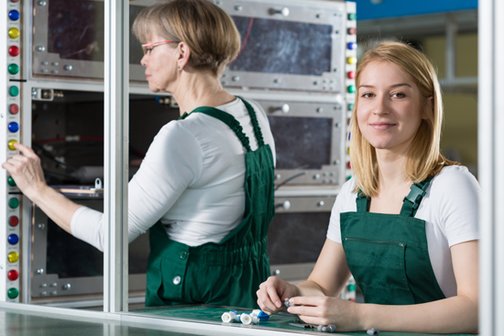 a company of 200 industrial employees
16 sickness absence days per employee, that means in total 3200 absence days
(absence percentage 7.08%), that turns into $1.64M in total cost of absence
(when cost of absence includes indirect costs, non-wages labor costs
and salary cost)
If sickness absences decrease even by 10% (7.08% > 6.37%), annual cost
savings are more than $163,000, when cost of absence includes indirect costs,
non-wages labor costs and salary cost.
If sickness absences decrease with 72%, as did in the study mentioned above,
annual cost savings are more than $1.1M, when cost of absence includes
indirect costs, non-wages labor costs and salary cost.
Indeed there are several aspects that proper ergonomics can have a positive impact on in the long run. The benefits of proper ergonomics are both for the employer and for the employee.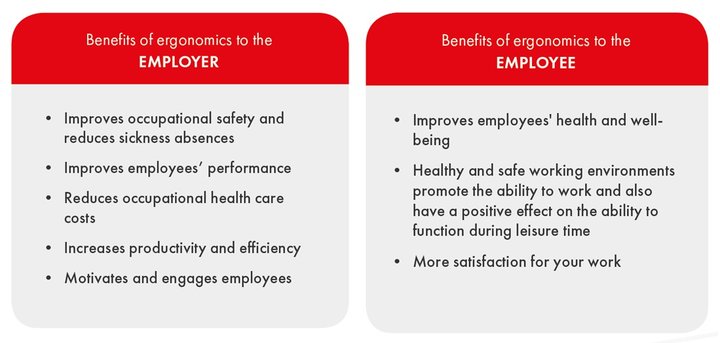 How to make the workplace more ergonomic?
For over 50 years, Treston has been a pioneer in designing ergonomic furniture and work environments. We affect the work environment of over a million employees annually with the over 500,000 workbenches delivered over the years. The starting point for the design and implementation of our workstations and workplace furniture is always the person doing the work and the work task itself. Ergonomically designed process steps make work more efficient and improve safety.
See below a short animation where we display the differences between poor and proper workspace ergonomics and learn 6 practical things on how to improve the ergonomics in your workplace.

5 main points to consider in workstations when improving your workspace ergonomics – for increased safety, efficiency & productivity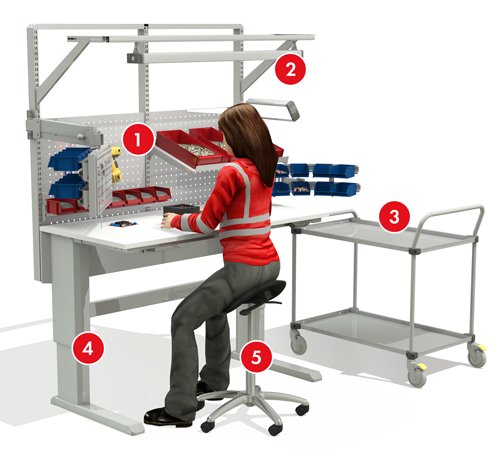 1. Everything available within the working zone
2. Bright and adjustable lighting, 2000 lx
3. Handling of manual loads
4. Adjustable working height
5. Adjustable chair
Note! ergonomics isn't just a trendy buzzword used carelessly in today's engineering world, nor is it useless jargon found in a sales catalogues. In fact many countries have occupational safety and health laws and these might include sections about workplace ergonomics.
For example in UK The Health and Safety at Work etc Act states that it shall be the duty of every employer to ensure, so far as is reasonably practicable, the health, safety and welfare at work of all his employees and that the provision and maintenance of plant and systems of work that are safe and without risks to health. In addition, The Manual Handling Operations Regulations states that an employer must protect their workers from the risk of injury from hazardous manual handling in the workplace. Manual handling means transporting or supporting a load by hand or bodily force. It includes lifting, putting down, pushing, pulling, carrying or moving loads. Furthermore, The Workplace (Health, Safety and Welfare) Regulations lay down regulations for suitable and sufficient workplace lighting as well as for suitable seating and footrests. The same regulation also states that every workstation shall be so arranged that it is suitable both for any person at work in the workplace who is likely to work at that workstation and for any work of the undertaking which is likely to be done there.
With its clear practical examples, the e-book shows how companies can holistically improve ergonomics at work.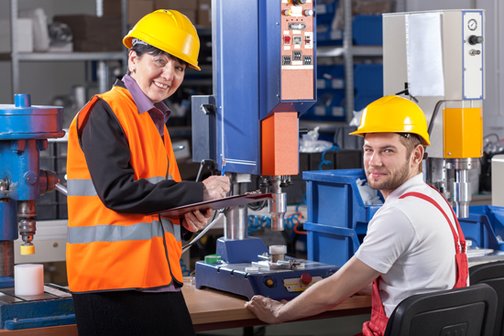 Identify the starting point and make a plan
Identify the problem areas and processes, observe, and talk to the employees. Make a plan for the investments and indicators that are related to safety, production volumes, and efficiency.

Interview and observe
Talk to the employees and observe them while they use their workstations and tools, and work with others. Examine the shifts and job rotation. Let history guide you and review the accident reports.

Gather the troops
Engage all the interested parties. In the long run, it will make decision-making and deployment faster. Explain what benefits the change will bring to the employees and to the company. Ergonomics can genuinely be a win-win situation.

Look beneath the 'surface'
The following should be taken into account when choosing ergonomic furniture and equipment for a workstation:

* Does the work involve sitting down, standing up, or both?
Research results show that even the tiniest amount of movement helps improve memory, attention, learning, and the employee's cognitive performance as a whole. The efficiency of a person who mainly does their work sitting down can be improved by giving them a workbench with electric motor height adjustment, which lets them stand up while working. A person who mainly does their work standing up would benefit from a footrest and a stool.

* Is the height of the workbench suitable for the employee and the tasks?
The appropriate workbench height is normally 24–30 inches for work that involves writing, and 30–43 inches for working in a standing position. The person should be able to rest their hands and look at the screen comfortably, and objects should be within easy reach.

* Which type of chair would be best?
Among other features, the chair should have height, back, and tilt adjustment, so that the chair can be adjusted according to the size of the user and the height of the worktop.

* How does lighting affect work?
Good lighting minimizes the strain on the brain when processing information, which in turn prevents headaches and fatigue. The lighting intensity scale of indoor workplaces ranges from 300 lux to 1500 lux or even 2000-3000 lux depending on the task.
* Which tools are needed for the work?
The placement and distance of the tools should be optimized. Heavy tools can be brought to the workstation on a cart, or a tool balancer can be fitted to a workstation. Workstation accessories with arms and video display terminals (VDT) are adaptable to the needs of various users.
If an employee uses one minute more per hour to reach for parts, in a workplace of ten employees, this amounts to: 10 people x 220 days x 8 hours x 1 minute => 36 workdays per year.
Please wait, loading product information...