Download LEAN e-book and see how Treston can help you to perfect your production processes
In the manufacturing industry, companies aim to manufacture products that their customers need, deliver them when they need them, quickly, cost-effectively, and using the smallest amount of resources possible. Companies also want to avoid unnecessary intermediate storage that ties up their capital.
According to the philosophies of LEAN and the 5S method, the implementation of the manufacturing process should be based on optimizing the organization of tools, material flow, and people; avoiding loss and unnecessary work; and minimizing setup times. The goal is to continuously improve the fluency of work processes by consulting those who do the work.
LEAN is smart manufacturing that improves productivity and results
The company and its employees benefit in many ways from a manufacturing process and related workstations that have been set up in accordance with the LEAN philosophy.
Tools do not get lost
Work takes less time and effort
The workplace is safer
Well-being at work increases
Lead times are shorter
Costs decrease due to minimized waste
Both productivity and production volumes increase
The modular and ergonomic workstation and material flow solutions developed by Treston are designed for manufacturing environments in which the optimization of process steps is needed. Treston products, which can easily be modified with accessories, support LEAN thinking and enable optimized process design and implementation. Treston products also take into account the individual needs of employees and the changing needs of companies, including small batch sizes and changing set-ups and series.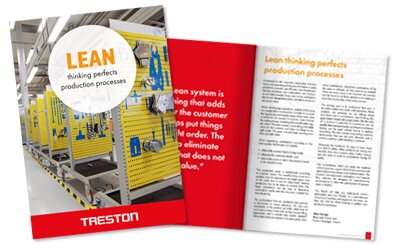 Want to learn more how to improve LEAN process at your workplace?
Download free e-book about LEAN
Please wait, loading product information...