MCPc improves efficiency with Treston workstations


MCPc's search for an upgrade to their workstations led them to Treston. Through authorized dealer Conveyer & Caster, Treston provided MCPc with benches and accessories to increase efficiency and maintain an organized facility. MCPc facilities are now more efficient and reflect the secure technology and logistics services MCPc provides customers.
MCPc needed:
Safe, ESD-protected working environment
Ability to reconfigure as needs change
Cable management which supports technical needs
Uniform working environment, strong enough to hold their heaviest devices
ABOUT MCPc:
"MCPc has been doing business even before the computer became personal. Headquartered in Cleveland, our customers include some of the most prominent Fortune 500 companies, hospital systems and financial institutions in America. We maintain regional offices and technology logistic centers in eight locations throughout the United States, and our services and staff can be deployed to meet a customer's specific IT needs – regardless of location. Our latest and largest technology logistic center is SkyPark, strategically situated near several major transportation routes and minutes away from Cleveland's international airport.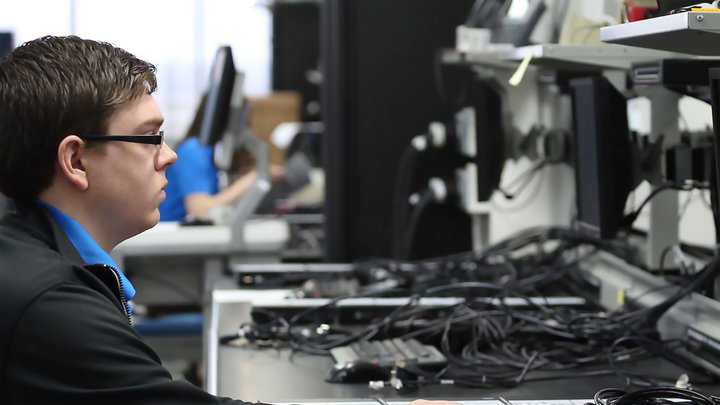 Through a process we call Secure Technology Logistics, we have innovated a suite of services where we help our customers select, deploy, manage and recycle the myriad of devices they use to do business – from desktops and handhelds to any equipment that contains sensitive patient, customer or patent data. We provide 24/7/365 monitoring of a customer's IT fleet for functionality and security, ensuring that their business runs smoothly and meets all industry and government regulatory standards. MCPc expertise includes the industry's most experienced technical engineers, who are known for devising solutions to any number of the complex situations that can be resolved through endpoint technology."
THE CHALLENGES:
MCPc has been in continuous operation since 1964, growing with the technology industry as it evolved from office equipment to end user computing. As the company grew and changed with the needs of technology, MCPc transitioned from old wooden benches, to a basic, off the shelf style bench. MCPc soon discovered the importance of a quality workstation, when moving equipment in and out in high volumes was no longer efficient. There were also problems with static protection and spray ESD protectant was applied regularly to worksurfaces to combat the issue.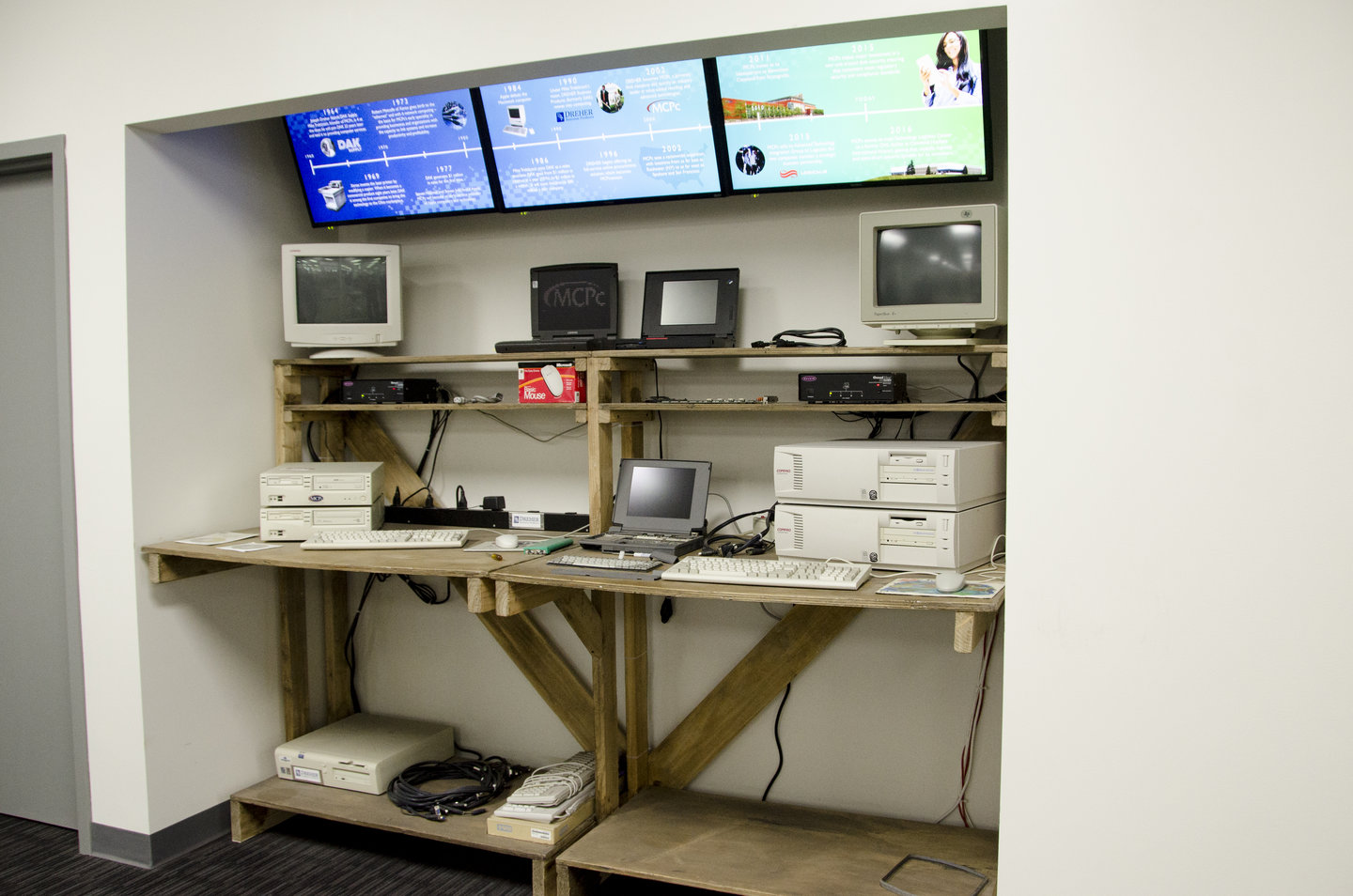 With business booming, cable management and workspace became cumbersome. Technicians transitioned from working on a few computers at a time, to working on up to 30 small devices. The basic bench could not support the demand or the tasks required. At the time, MCPc's workspace consisted of just a few benches with adequate power and lighting, and a single bench able to support heavy loads. Technicians shifted equipment around the lab to complete their projects.
When looking for a workbench supplier, Jim Leonard, operations manager at MCPc, turned to Conveyer and Caster. "We found that the bench was really an important part of the puzzle", says Leonard. MCPc needed the ability to "set up the benches, A – uniform, B – strong enough to hold our heaviest devices safely without warping or caving in, and ESD so it's static protected." Through Conveyer and Caster, Treston workstations were assembled and configured to meet MCPc's requirements.
THE SOLUTION:
Specializing in ergonomic and ESD workspaces, Treston provided solutions that met each of MCPc's needs. ESD worksurfaces saved technicians time and energy, and guaranteed protection for their devices. Treston benches are highly adjustable and modular for configuration in a variety of ways, using standard parts. The flexibility this offered MCPc was the biggest factor in their decision to choose Treston over a competitive product. "With a fleet like this, I can almost literally put any project anywhere. A lot less handling, a lot less shuffling of people and projects. It just makes it easier" says Leonard. The Concept and Cornerstone benches MCPc chose can also support a high degree of weight, offering MCPc the durable solution their equipment requires.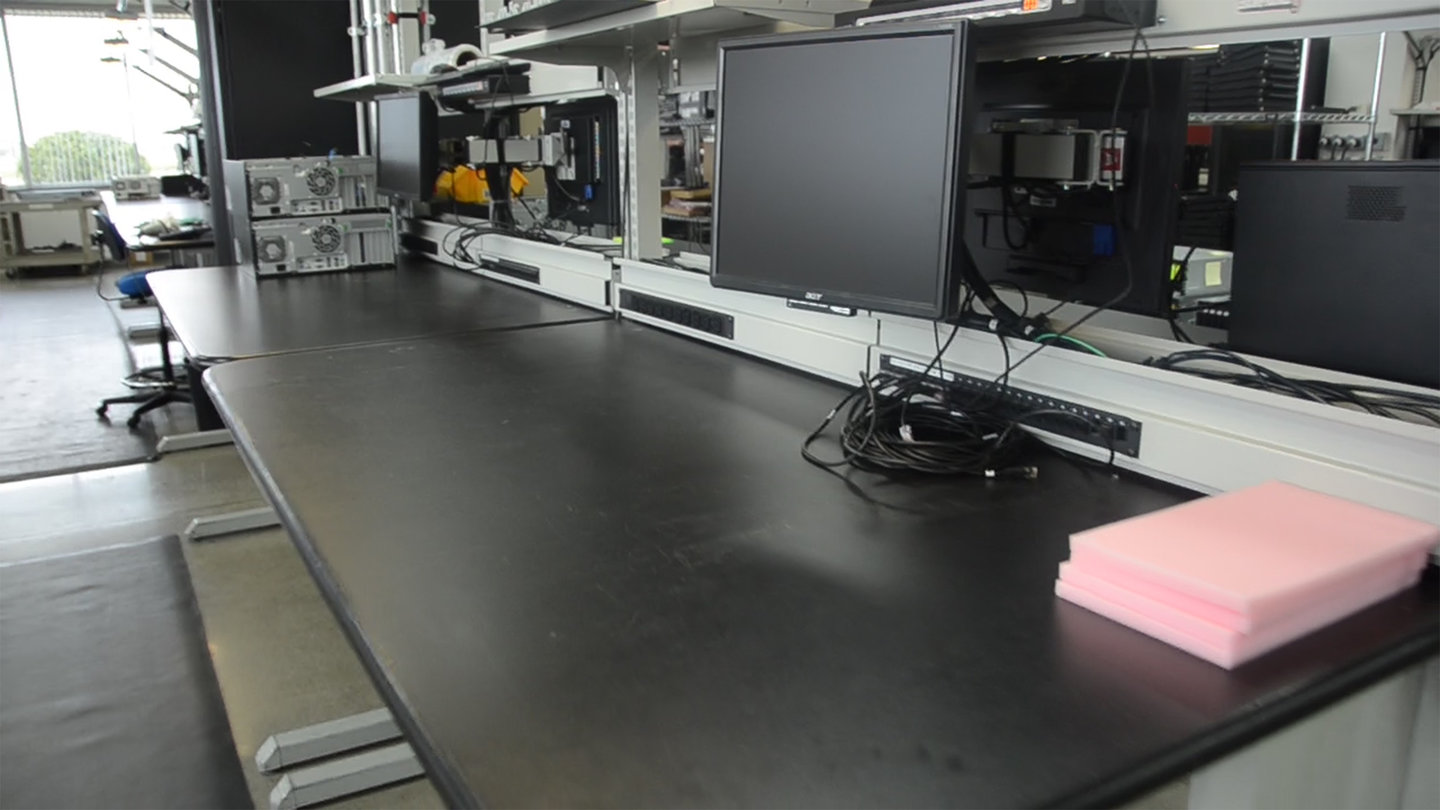 Nearly 100 benches make up the Cleveland Skypark facility alone, each needing a dedicated data and power supply. Cable management for multiple devices on each bench was critical. Using Treston accessories, cables could now be run underneath the workstation, hiding them from view and maintaining a clean working environment.

Please wait, loading product information...