Ascena Retail Group uses TPB in multi-channel distribution centers


About Ascena Retail Group:
Ascena Retail Group, Inc. is the largest specialty women's clothing retailer in the United States, offering apparel, shoes and accessories for women under the Ann Taylor, LOFT, Lou & Grey, Lane Bryant, maurices, dressbarn and Catherines brands, and for tween girls under the Justice brand. Ascena operates ecommerce websites and over 4,800 stores throughout the United States, Canada and Puerto Rico. source: LinkedIn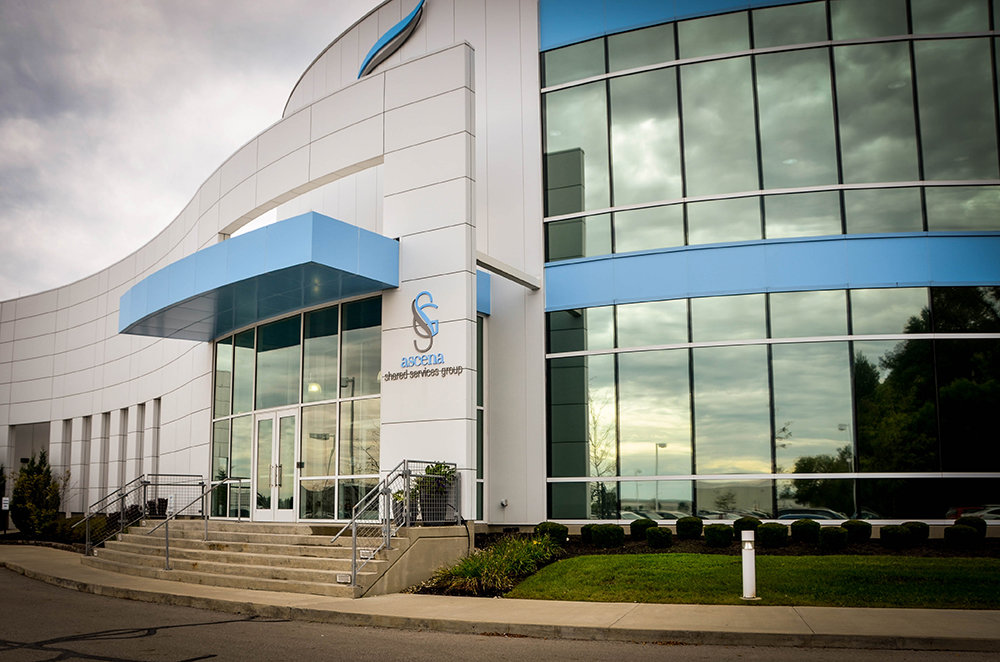 Ascena Retail Group has two multi-channel distribution centers in Riverside, California and Patasilka, Ohio, and a fulfillment center in Greencastle, Indiana. The multi-channel locations fulfill both e-commerce orders and distribution to retail stores. There are 1100 employees between the two facilities, with staff increasing during fall and winter peak seasons.
TPB Packing Benches for a variety of applications
Engineering Manager Josh Sexton first discovered Treston's packing benches when his team from Ohio attended the MODEX show, a material handling convention in Atlanta, GA. Treston's packing benches stood out to him as a quality product that would be a durable solution for the needs of his facility. At the time, Ascena needed additional workstations for their decant and VAS processes, as well as for their supervisor and research stations.
Adjustable height was definitely a factor when we were considering workstations and we were very happy that Treston's was adjustable. We also liked that we could adjust it to a certain spot and set it. It's a very good set up and a good ergonomic height" says Josh. "We selected Treston because they looked like they would be a very durable and long-lasting bench here in the distribution center. And distribution centers, with all the heavy cases thrown around, that's important.
Project requirements:
High-quality, durable, and made to last workstations

Able to be adjusted for multiple functions and changing needs

Height adjustable for worker and function

5S storage accessories for a clean and organized work space
Treston currently provides TPB packing benches for the Riverside and Columbus locations. Both facilities are responsible for shipping cases of product to brick and mortar stores, as well as direct to consumers from online order. Treston's TPB918 bench is utilized in four main job functions throughout the facilities.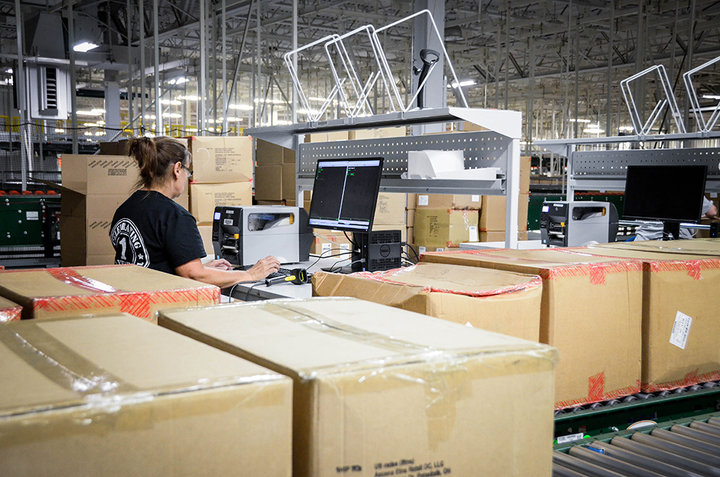 DECANT: The TPB packing benches assist these facilities with their decant process, where workers split cases of product between East and West Coast distribution centers. Cases of product are received, split, and then reprocessed for shipment on Trestons benches.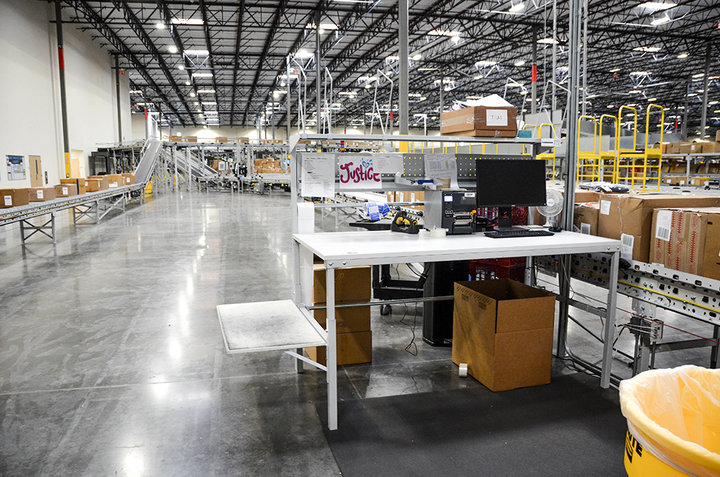 RESEARCH: TPB benches also serve as research stations. In this process, workers review cases, label and organize each box as needed, resolve any issues with their contents, and get the product where it needs to go. Each clothing brand has its own research stations, outfitted with shelving, label machines and computers. These tables are adjusted for the ability to pull boxes from the conveyor and pushed back to the conveyor after the research is complete.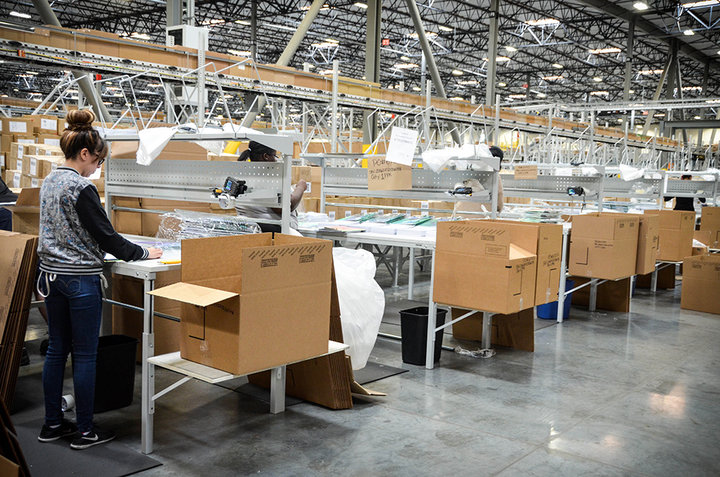 VALUE ADDED SERVICES: The Riverside facility utilizes TPB benches for their VAS (value-added services) stations. In this process, workers receive product, which is then kitted or customized in some way before it can be shipped to the store or customer. Cases are pulled from the conveyor, opened and revised, then repacked for shipment. In the photo, Ascena employees are unpacking folders for the Justice brand and adding notepads to the folders, then repacking the boxes for shipment to Justice stores in time for back-to-school shopping.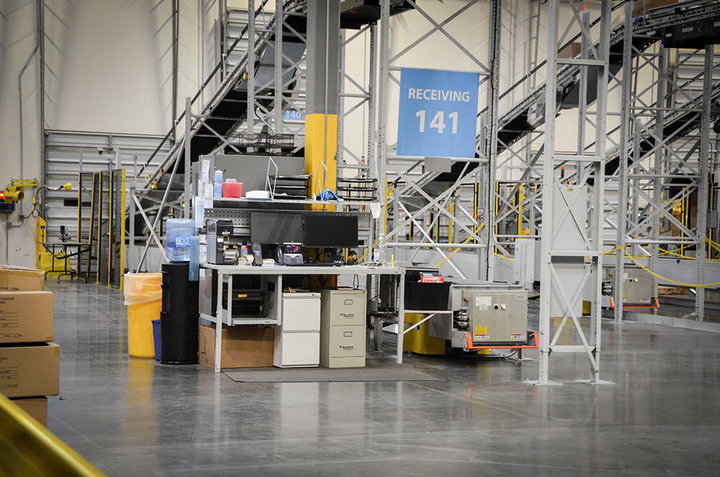 SUPERVISOR STATIONS: Riverside and Columbus facilities use TPB benches for their supervisors as well. Supervisors in each function of the facility manage their operation from a Treston bench, outfitted with shelves and computer and label machine support.
The original project included TPB benches for the Columbus distribution center's decant and supervisor workstations. This one location was handling all retail shipments for the entire US. Their facility needed packing benches that could service multiple functions and withstand the heavy traffic of their shipments.
When the Riverside distribution center was added, Trestion benches were recommended for their facility in their VAS, decant, research and supervisor stations. The new Riverside location handles shipments to stores and customers on the west coast, and the Columbus location is responsible for the east coast. From order to assembly, the additional Riverside project took six weeks. Josh Sexton was very pleased with the speed and ease of the project.
Working with Treston has been great. Between them and Techni-tool it was a very painless process, ordering it and getting the product shipped. From the time we ordered to the time we had them assembled, it was around 6 weeks, which was a fantastic turn-around time.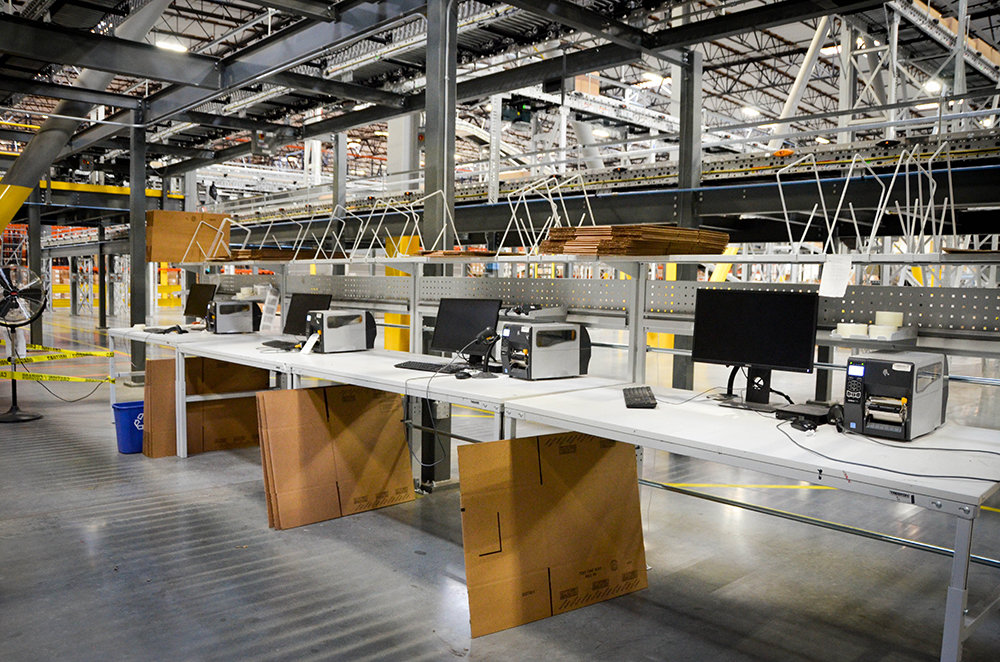 Senior Industrial Engineer, Leann Pregibon, had this to say about adding Treston products to the Riverside location:
Based on our Ohio facility, which has been up and running for a while, when we purchased the Treston work benches, we knew we were going to get a quality product that would suit our DC for several different operations.
Safe, efficient workstations for all areas of the warehouse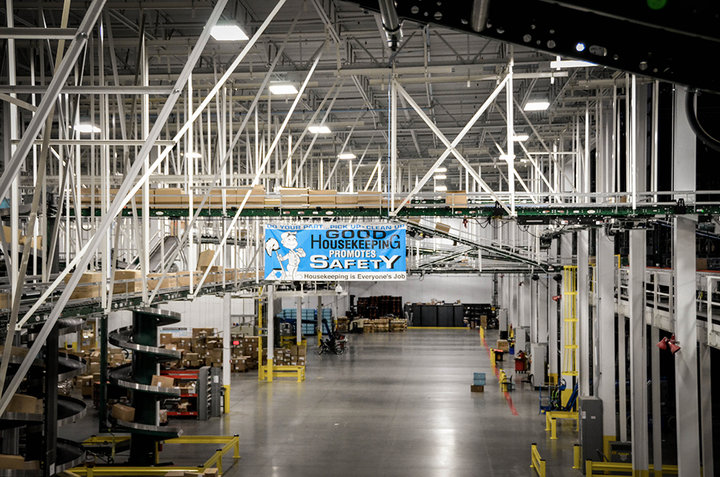 Treston's packing benches have now been in use for several years. Ascena Retail Group employees have been very happy with their functionality. They have also helped their team stay organized and safe, which is especially important for Ascena Retail Group. "Everything has a place. It's a good, 5S-type workstation" says Josh.
Leann Pregibon recommends Treston products, stating "They're quality products that are customizable and allow us to make changes based on the need and the location of the product in the warehouse. This one product supports us in several different areas of the warehouse."
As Ascena Retail Group continues to grow, Treston looks forward to the opportunity to provide additional work space solutions in the future.
Ascena Retail gave us the opportunity to show the ergonomic design and flexibility of our packing stations. We were able to work with the designer in providing different configurations for the many different stations needed to complete their distribution center operations. From Decant to VAS and simple packing stations, Treston pack stations are configurable to meet the demands each process requires. We look forward to working with Ascena Retail as their operations continue to grow.
- Dan Smith, National Sales Manager for Treston
Please wait, loading product information...