5 Reasons to Love Treston Workstations


Carissa Harris
Carissa Harris is the Marketing Communications Director for Treston Inc.
It comes as no surprise that the team of specialists at Treston is a fan of our own workstation solutions. But why should you love them, too? Here are the top five reasons why our customers swear by workstation equipment and products from Treston.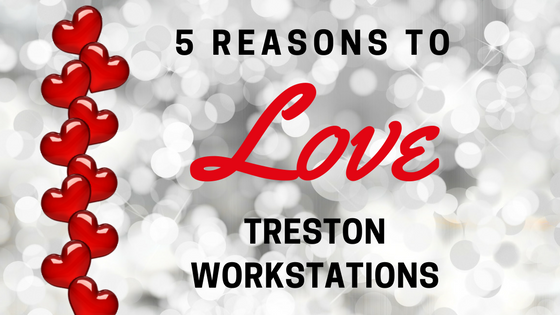 1. There Are So Many Options
Treston offers the widest selection of workstation products on the market. With 10 frame styles and hundreds of standard accessories, the configurations for you to choose from are limitless! This makes it easy to create a customized solution for your needs using standard components, especially when you use our online inventory to find smart workspace solutions for sale.
2. Quality is a Top Priority
With over 140 years of experience bending sheet metal, our team at Treston has perfected our products. Using only high-quality materials, we designed all products with the goal to last a lifetime. Treston workstations can withstand even the toughest working conditions and have proven to provide functional solutions for decades.
3. Flexible and Adaptable to Changing Environments
Treston's available modular workbenches can be optimized for specific tasks and combined with other workbenches to create workflow patterns. These can be easily adjusted or rearranged to suit the task being performed and to improve the efficiency of a company's processes. Greater efficiency means increased profitability for companies.
4. Ergonomics is The Heart of Treston
The comfort and safety of workers is our core focus. By having all components in easy reach and at comfortable distances, it minimizes bending, twisting and reaching, and consequently reduces strain, stress, and discomfort, leading to more relaxed positions and greater efficiency. Companies should look to apply ergonomics to reduce absenteeism, boost company morale, scale back employee injury, improve quality, and increase output.
5. Treston Makes The Process Easy
Treston's FREE 3D Configurator online design tool makes it easy to build a custom workbench. In just 4 simple steps, this tool walks you through the process of selecting a workbench that suits your needs. The Configurator is highly interactive, allowing you to see the design in 3 dimensions from all angles. Select the products you like and submit it for a quick quote. How easy is that?!
Love Your Workstations with the Help of Treston
You don't have to hold off and wait any longer for solutions that will make your workspace more comfortable, efficient, and profitable. There are several ways to get started with Treston's workspace inventory! Contact us with questions you may have about anything you see on our online catalogs, or if you see something you want to order, then request a quote and our sales specialists will be quick to accommodate you!
Please wait, loading product information...