INFOGRAPHIC: The 5S Principles for a Safe and Efficient Workplace


Carissa Harris
Carissa Harris is the Marketing Communications Director for Treston Inc.
5S is a phrase that refers to workplace organization and standardization for lean process improvement. It is how we have our areas organized, free of clutter, efficient, safe, and pleasant to work in. It is considered a cornerstone for companies pursuing Lean Enterprise. It lays the groundwork and develops the discipline necessary to support the successful implementation of other Lean concepts throughout an organization.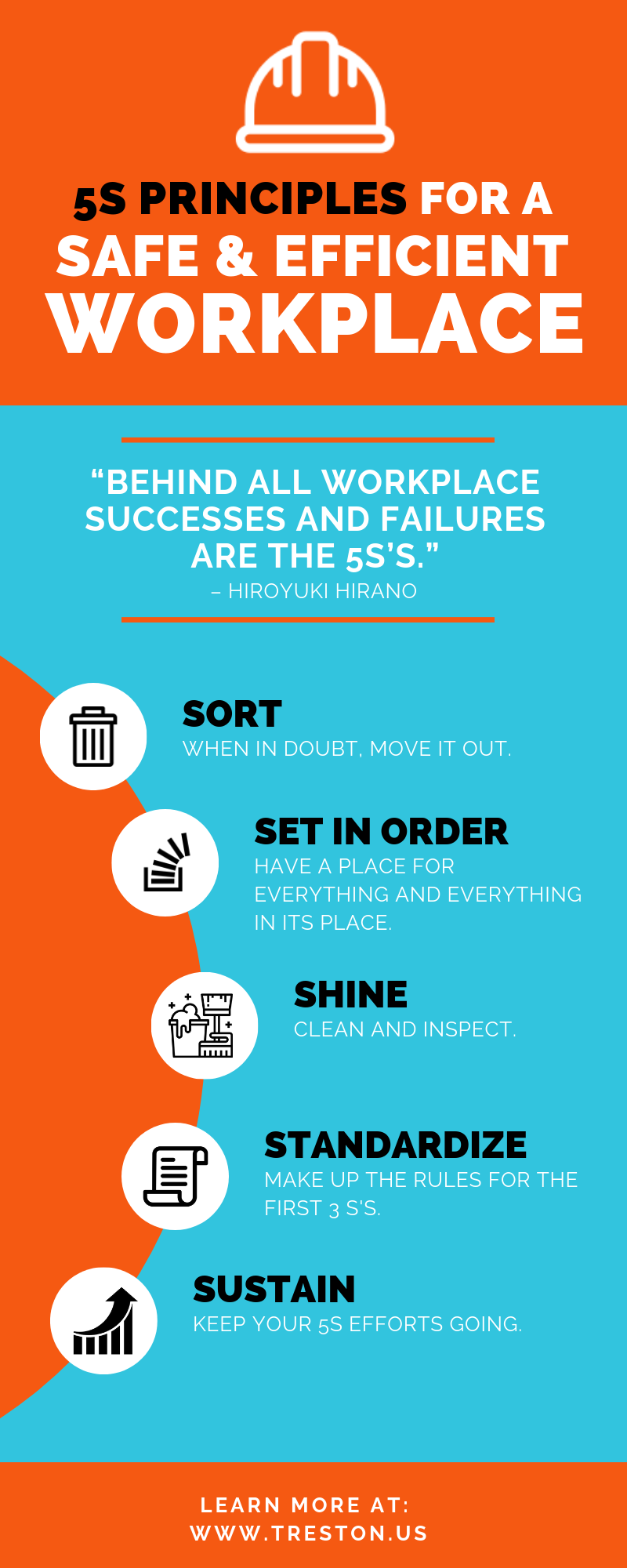 Improve your Workplace's Safety & Efficiency with Treston
Are you ready to get going on the 5S Principles for lean process improvement? Our experts are trained and ready to assist you in creating the workplace you and your workers deserve. Whether you're ready to explore the product catalogs of ergonomic workspaces or ESD workspaces, we have the resources on hand to help you make an informed shopping decision. Use our online 3D Workstation Design Studio to build and visualize your workplace from our website, or contact the Treston team to ask questions and we'll be happy to guide you through all of your options.
In Summary - The 5S Principles Explained
In case you are unable to view our infographic or would like more explanation, here are each of the 5S principles and what they mean for a safer and more efficient workplace:
Sort - Prioritize and determine which components are most important, and remove any clutter that is unnecessary and causing delay or risk.
Set in Order - Understand the order of operations and the necessary placement and location of each component. Organization is key!
Shine - Keep everything in peak condition by cleaning, maintaining, and inspecting. If there are any faults that cause risk or delay, consider fixes or replacements.
Standardize - Create a set of rules and expectations for the first three S's so there is a universal understanding of how things are sorted, where things go, and how frequently to care for and inspect things.
Sustain - Don't lose momentum! Keep the S's going to ensure ongoing safety and efficiency. Review standardized rules to ensure they're still the best practices for sorting, setting in order, and shining.
Please wait, loading product information...