Treston products are easy to clean
9.4.2020
Now when the Covid-19 virus is spreading all over the world and workplaces do their best to protect their employees from the virus, we wanted to share with you some cleaning instructions for Treston industrial furniture. We have also included a few simple tips on ways to maintain proper hygiene at your workstation to prevent Covid-19 spread in your workplace.
With the continued spread of the COVID-19 virus, employers are increasing their efforts to keep their employees safe and healthy. At Treston, the safety of our customers and their employees is our top priority. We would like to share some cleaning instructions for Treston industrial furniture along with a few tips on ways to maintain proper hygiene in your workplace.
Is Covid-19 virus transmitted from surfaces?
According to studies published by several major health organizations, the COVID-19 virus is primarily transmitted through respiratory droplets that are produced when a person coughs or sneezes. The role of contaminated surfaces does not contribute significantly to the spread of the virus, according to current information. The structure of coronaviruses is such that they do not remain infectious on surfaces for a long time. And even if the coronavirus is found on surfaces, this does not mean that the virus is effectively transmitted via surfaces. (source: Finnish Institute of Occupational Health, )
However, as the COVID-19 pandemic is rather new and we do not yet know everything about the virus, we still recommend frequent and regular cleaning of workstations.
General instructions for cleaning Treston workbenches during Covid-19 pandemic
Good hand hygiene is the easiest way to protect yourself. By maintaining good hand hygiene, you can reduce your risk of infection. Have a look here for hand washing instructions from World Health Organization.
Treston products are easy to clean. All surfaces that are frequently touched should be cleaned thoroughly and frequently. To start, begin cleaing from the less used, cleaner areas of your workstation and move towards the more heavily-used, dirtier areas For all Treston industrial furniture products, the areas that are frequently used and/or touched and should be cleaned daily. These include: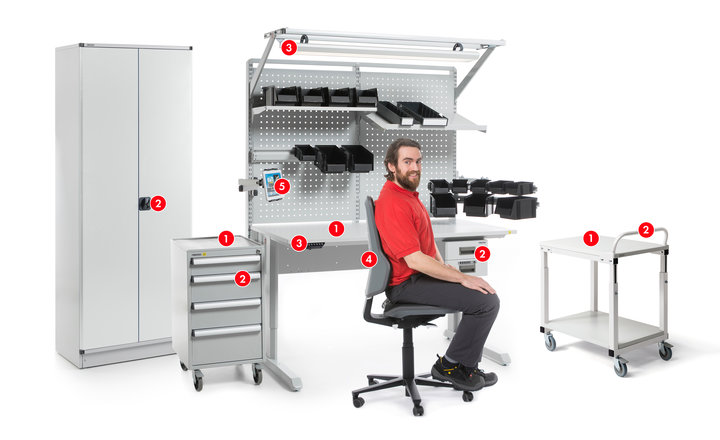 Workbench, cart and drawer unit tops

Handles

Push buttons (e.g. lights, electric height adjustments)

Back side of chair back rest (the non-upholstered side of back rest)

Any devices (e.g. keyboards, measuring devices) on the workstation that are used frequently

Hand cranks, armrests and tools in the workstation
Read the general cleaning instructions for Treston industrial furniture here. There, you will find a 10-point check list to keep in mind while cleaning your Treston workstations and a list of detergents and disinfectants we recommend for cleaning.
What else to consider?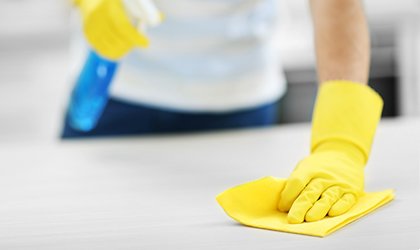 If possible, equip each workstation with hand sanitizing dispensers. Make sure these dispensers are regularly refilled.
All waste baskets in the workstation are good to equip with easily removable, easy to close, leak-proof trash bags. Do not let the trash bags get too full so that they can be easily closed. When removing the trash bag from the bin, close the bag tightly. Waste baskets should be emptied daily.
Remember to carefully clean the cleaning equipment used. Wipe the handles of the cleaning cart and the surfaces of cleaning containers with disinfectant. Reusable cleaning clothes should be washed at a temperature of at least 140°F or disinfected. If you used reusable gloves, they should be carefully washed and dried. Disposable gloves should be disposed in mixed waste. Finally, remember to carefully wash your hands with soap and water. (source: Finnish Institute of Occupational Health, )
Please wait, loading product information...