INFOGRAPHIC: 6 Steps to Creating and Maintaining ESD Protected Areas


Carissa Harris
Carissa Harris is the Marketing Communications Director for Treston Inc.
Treston is proud to inform and guide its customers to ensure they're providing their workspace with equipment that offers efficiency and safety. The infographic below outlines the 6 steps to creating and maintaining an ESD-protected area (EPA) for you and your workers. Follow this guide as you're shopping on our website.
ESD Protection Best Practices
We encourage you to use this 6-point checklist for review as you explore our electrostatic discharge (ESD) protected products for sale at Treston. To read more about each of these six steps and receive more insight on best practices you can download our e-book here which explores this subject in greater depth.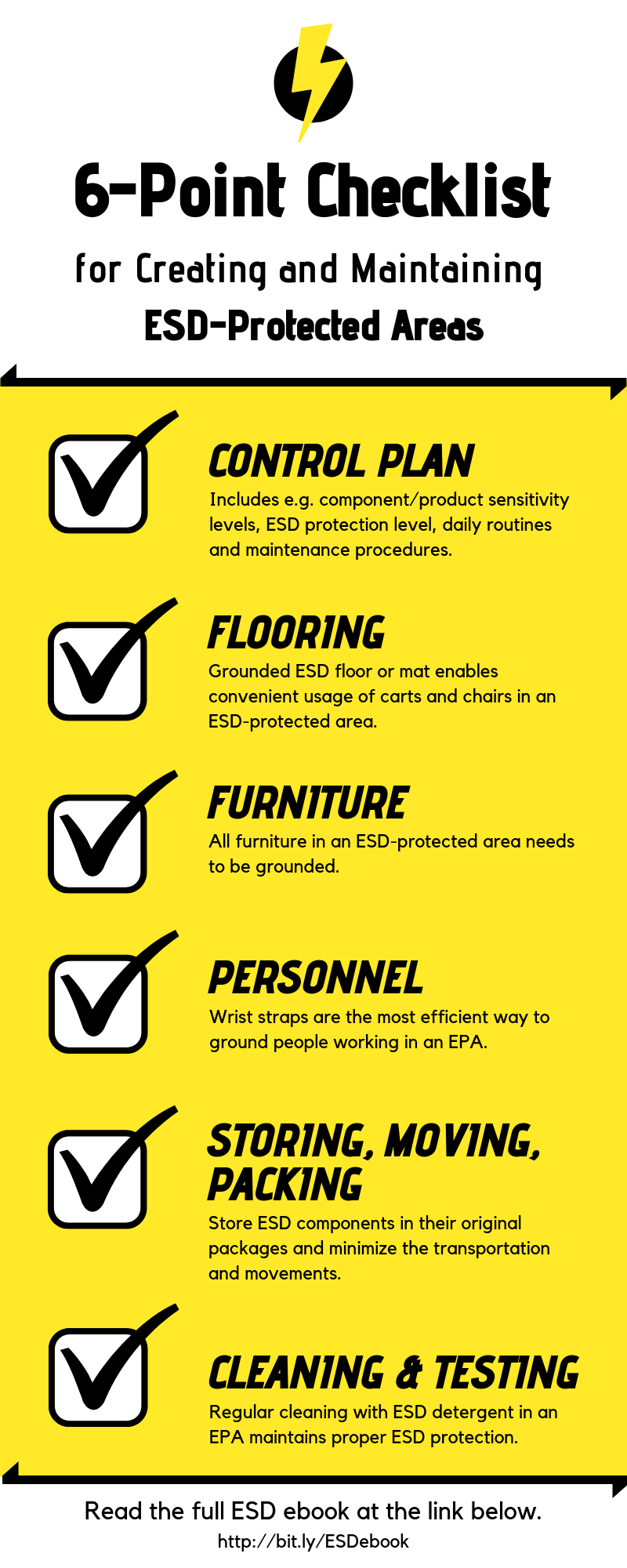 Get Started on ESD Protection with Treston Today
Are you ready to order the proper produced needed to ensure an EPA for you and your workers? Explore the ESD Workspace Catalog now to see our latest offerings, or contact the Treston experts for any questions you may have, and we'll be happy to assist you.
In Summary - 6-Point ESD Protection Checklist
In case you have question or the infographic is not displaying, here is a summary of each point on the ESD protection best practices checklist:
1. Control Plan - Having a control plan for an ESD protected area includes component and product sensitivity levels, ESD protection levels, daily routines, and maintenance procedures.
2. Flooring - Including a grounded ESD floor mat allows for convenient usage and movement of carts and chairs within your ESD-protected area.
3. Furniture - In order to guarantee proper ESD protection, all furniture in your designated ESD protected area must be grounded.
4. Personnel - You must also look out for those working in your ESD protected area. Wrist straps, for example, are the most effective way of grounding people working in an EPA.
5. Storing, Moving, Packing - Be sure to store ESD components in their original packages/packaging and mimize the transportation and movements of these components.
6. Cleaning & Testing - Protection requires ongoing inspection and maintenance. The regular cleaning of equipment with proper ESD detergent in an EPA helps in maintaining proper ESD protection.
Please wait, loading product information...